I'm very sad to have to write this post… But I officially got the red light for running the 10 miles.
The pain I've been having in my ankle is not gone yet and I'm now also feeling it in my right ankle. There's also a big bruise on the left one…
On Thursday morning I emailed Benny (the coach I decided to work with after the marathon) and asked what I should do. He advised me not to run and to go see a doctor.
He said: 'only run if the doctor gives you the green light'. So when I showed up the the doctor's office and showed her my foot, she immediately crushed my hopes and told me not to run. She also added: 'and giving me that puppy look won't help…'.
I went for an ultrasound and luckily the tendons look okay. So it's probably just from exercising a bit too much. I need to do 9 sessions at a sports physiotherapist and will start on Monday.
I decided to sell my bib for the 10 miles and follow the advice everyone has been giving me. I'm hoping that by taking it easy now, I'll get back to running sooner rather than later.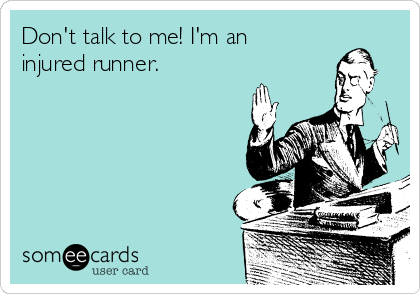 I do know that this is not the end of the world, but as any injured runner will tell you, it's not easy. It's beautiful weather in Belgium and all I want to do put on my running shoes and run! I'm trying to stay active by swimming, which I'm actually enjoying as well I have to say. I even went out and bought a bathing suit. So while everyone out there is running the marathon, 10 miles or 5K, you'll find me in the pool.
And to everyone out there running, awesome job! See you next year Antwerp!